Fasilitetene
Enkeltrom
Et enkeltrom har seng, nattbord, veggbord med stol og lampe og garderobeskap. Hvert rom har individuell oppvarming som kan justeres. Størrelsen på et enkeltrom er rundt 11 m2.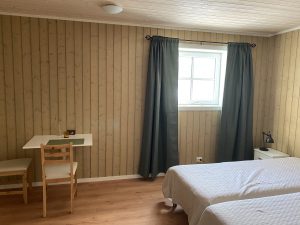 Double Rooms
A double room has two individual beds, two night tables, a wall table with two chairs and light, and a wardrobe. Each room has individual heating which can be adjusted. The size of a double room is around 15 m2.
Apartment
The apartment has a living room, small kitchen, bedroom with one bed and a bathroom. In the living room there is a sleeping couch.
Group Room
The group room is a bigger room with four open partitions/sleeping places. There is access to a collective kitchen and bathroom.
Facilities